Stone, Slate and Tile roofs repaired and replaced
Buxton. High Peak, Derbyshire and N.E. Cheshire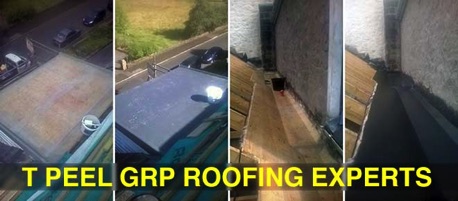 GRP stands for Glass Reinforced Polyester (also known as Glass-Fibre). Our system is cold-applied on-site and provides a seamless, flexible surface that resists rain, hot sunshine and frost. The resulting surface gives a strong architectural finish that looks neat and impressive.
Properly maintained it will last as long as the building stands.
GRP provides all-weather protection for any flat roof - from small domestic situations to large industrial buildings.
Benefits of our GRP System
• Cold applied - no heat or flames involved
• Can be formed around complex shapes
• Very durable - resists heavy foot traffic
• Non-slip walkways can be incorporated
• Class-leading roofing solution - superior to traditional methods
• Virtually Maintenance-free for very long periods of time
• Impact Resistant due to its ultra hard finish
• Fire retardant
• Highly economical solution
Need a quotation? Call 01298 71615